Zawsze wliczone w Center Parcs
Only at Center Parcs, this much is included
You think that when booking your stay at Center Parcs, you only get a nice, cozy cottage? Well, it is so much more than this: Only at Center Parcs, a whole experience is included in your stay – so that you can truly connect to each other, and to nature! Every day, also on arrival & departure day.

Apart from each park's unique offer of included activities, services and facilities, which you can find on every park page, the following benefits are always included in your stay: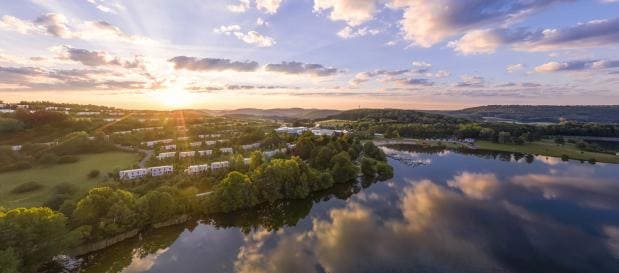 Book now, decide later
We'll ensure you can look forward to your holiday by offering maximum flexibility. We understand things can change.

If you book a stay now, you can rebook for free up to 21 days before arrival. View the terms and conditions here.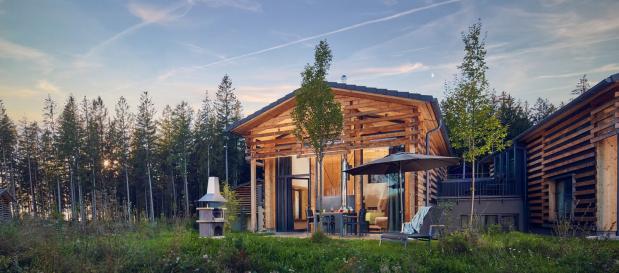 Accommodation in nature
Isn't it great to be together with your loved ones and really enjoy our beautiful nature? You can choose from various luxury levels while all accommodations are fully equipped and in the middle of nature.


In your cottage, you have everything you need: Comfortable furniture (including baby furniture), an equipped kitchen, a nice bathroom and a spacious private terrace with view on forest, water or both. Here you will have rabbits, squirrels, ducks or even deer coming by.
The more luxurious your accommodation, the more convenience and comfort: The Comfort cottage offers you a cozy holiday home, the Premium cottage adds some extra amenities, while in the VIP and Exclusive cottages you enjoy your own sauna and even more.
A lot of parks offer completely new or renewed accommodations, like De Vossemeren.
You are looking for a really extraordinary accommodation? Then go for a tree house, house boat or the various themed cottages like the Animals of the Forest cottage.
Enjoy free Wi-Fi in all accommodations.
In several parks, you can also choose the amenities of hotel rooms or suites, with hotel services and free breakfast buffet every morning.
We will take care of the accommodation end cleaning for you, and of course water and electricity are included in your stay.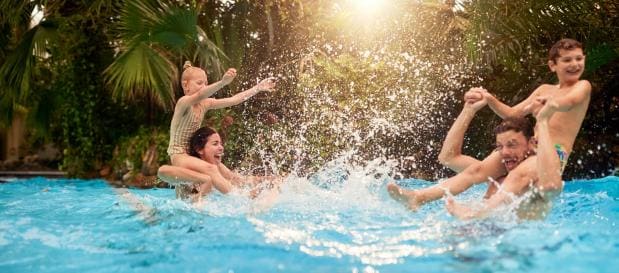 Swimming paradise Aqua Mundo
At every park, the Aqua Mundo is an adventure: Soaking wet, unlimited water fun and relaxation for everyone – indoor and outdoor, all year round!


Try all the pools: Indoor, outdoor, wave pool, hot tubs, snorkeling pool – whatever you want!
Take a ride down together in the only true wild water rapids or down one of the thrilling water slides like the Monkey Splash in De Vossemeren.
Splash around with your little ones in the safe kids pools or the Water Playhouse.
You want to take it easy? Go swim some lanes in the morning or relax in the whirlpools.
Perfect for baby holidays: In the Aqua Mundo you will find family changing rooms, changing pads, play-pens and bottle warmers.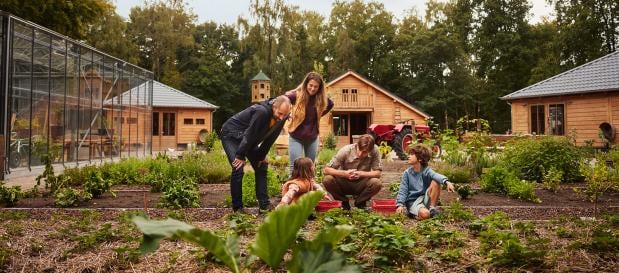 Nature Experience
All our parks are located in attractive regions, each offering an unique natural landscape. And we invite you to discover this by yourself or via one of our dedicated nature activities.


Do you like walking on the beach? Vast forests? A climb? Forest, lake, sea, hills – you decide! As we choose the most beautiful places for our parks, but always with respect for nature.
Local tourism offers and great excursion destinations are always nearby.
All of our parks consist of 90% forest and water areas, inhabited by dozens of different animal species and with a variety of plants often even greater than in the surrounding area.
Discover the nature in and around the park on a walk or via our various free nature activities available in each park: From the kids farm with animal caretaking to workshops to learn more about nature.
The most extensive nature experiences are offered in our parks Bispinger Heide and De Vossemeren with their Nature Trail and Ranger activities, in Het Meerdal with it's educational farm, Les Trois Forêts with it's Biodiversity path and Les Landes de Gascogne with it's huge farm with vegetable garden.
You like it even more playful? Then use our Nature discovery app to go on an interactive nature expedition: With educative information, games and AR!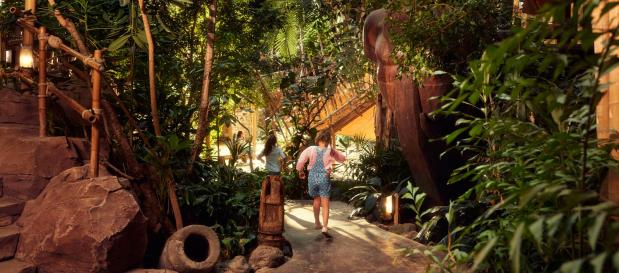 Outdoor & indoor fun for everyone
And what's next? There's much more to experience for everyone – way more than you can fit into one stay! Whatever the weather, you'll always have fun, whether it's outside or inside. And all this is included:


You will find all included activities and facilities per park in the Center Parcs app – go check it out!
You are looking for fabulous fun out in the fresh air? There are plenty of themed playgrounds, outdoor play areas like the HangOut, soccer, basketball and beach volleyball fields, running parcours, petanque lanes and even more.
New adventures await inside too, in the indoor play paradise BALUBA in a lot of parks, in the Jungle Dome in Het Heijderbos, the Discovery Bay in De Vossemeren or ZE Place in Les Trois Forêts.
Orry & Friends will create lasting memories for the kids: Come join the show, the parade through the park, the Kids Disco, listen to bedtime stories or go for the funny Meet & Greet.
But also adults don't miss out with our diverse evening entertainment: Show Night, Quiz Night, live music and DJ!
You prefer to have a cozy evening at your cottage? Enjoy board games or Center Parcs-TV!
Adding to all of this, our parks offer free seasonal highlights in each season: Summer Vibes or Winter Wonderland, cinema, free games and seasonal workshops.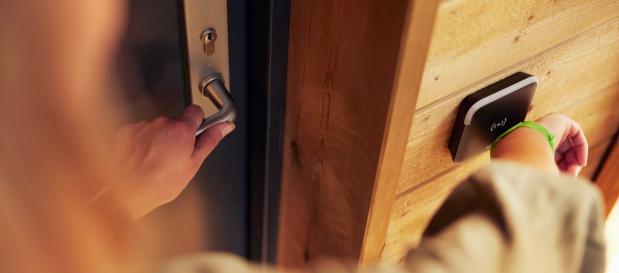 Hassle-free holiday experience
We enjoy providing our guests with a completely hassle-free holiday experience – before and after your stay:


Our guided digital journey makes everything as convenient as possible for you: The Center Parcs app guarantees easy planning of your holiday with activity times, opening times of facilities, park map, the possibility to book additional services/activities and much more. Your practical bracelet gives not only access to your cottage, but also to the facilities like the Aqua Mundo or the all-weather play worlds. All your activities and dining packages are recorded on the bracelet.
At Center Parcs, we take care of our guests so that you can enjoy unique and fulfilling experiences to share with your loved ones. We make everything possible for this – after all we want everyone to have an unforgettable, individual holiday to experience the authentic environment up close.
297 available accommodations
Sort by:
Sort by:
Sort by:
Popularność
Popularność
Cena rosnąco
Cena malejąco
Liczba sypialni malejąco
Comfort domek
Wi-Fi
Duże okna wpuszczające mnóstwo światła
Prywatny drewniany taras z meblami ogrodowymi
Wyposażona otwarta kuchnia
Od 31 Jan until 2 Feb 2024
Comfort domek
Podstawowe Wi-Fi
Prywatny taras z meblami ogrodowymi
Meble dla dzieci (łóżeczko dla niemowląt i krzesełko do karmienia)
Kominek
Od 27 Feb until 1 Mar 2024
Comfort domek
Podstawowe Wi-Fi
Prywatny taras z meblami ogrodowymi
Meble dla dzieci (łóżeczko dla niemowląt i krzesełko do karmienia)
Od 30 Jan until 2 Feb 2024
Comfort domek
Podstawowe Wi-Fi
Prywatny taras z meblami ogrodowymi
Meble dla dzieci (łóżeczko dla niemowląt i krzesełko do karmienia)
Kominek
Od 30 Jan until 1 Feb 2024
Comfort domek
Podstawowe Wi-Fi
Prywatny taras z meblami ogrodowymi
Meble dla dzieci (łóżeczko dla niemowląt i krzesełko do karmienia)
Od 28 Feb until 1 Mar 2024
Comfort domek
Podstawowe Wi-Fi
Prywatny taras z meblami ogrodowymi
Meble dla dzieci (łóżeczko dla niemowląt i krzesełko do karmienia)
Kominek
Od 28 Feb until 1 Mar 2024
Comfort domek Odnowiony
Podstawowe Wi-Fi
Prywatny taras z meblami ogrodowymi
Meble dla dzieci (łóżeczko dla niemowląt i krzesełko do karmienia)
Kominek
Od 29 Jan until 1 Feb 2024
Pokój hotelowy Odnowiony
Codziennie bufet śniadaniowy
Usługi hotelowe
Streaming Wi-Fi
Od 29 Jan until 1 Feb 2024
VIP domek Odnowiony
Streaming Wi-Fi
Łazienka z sauną, wanną z hydromasażem i kabiną prysznicową z deszczownicą
Zestaw ręczników (ręcznik kąpielowy i mniejszy)
Codzienna dostawa bułek na śniadanie pod drzwi
Od 29 Jan until 1 Feb 2024
Premium Domek Eden Odnowiony
Podstawowe Wi-Fi
Duże przesuwne drzwi dające przestrzeń i dużo światła
Nowoczesna, otwarta kuchnia
Usługa ścielenia łóżek
Od 30 Jan until 2 Feb 2024